Many of the works represented here are personal works of impressionism, expressionism and abstract. Some are oil paintings, charcoal or water colors that have moved myself as the artist to paint them on a personal level that you may find relevant to yourself. These are offered for the beauty of viewing, for sale or in the form of custom art work (see below). They may be enjoyed in your own home along with your own art collection for years to come.
Commissions
Commissions are welcome as well, and may be created using a snap shot. This may be accomplished via the World Wide Web and/or through e-mail. A physical snap shot may be sent by using the standard mail system if you prefer. Should you require the image to be returned please enclose a stamped self addressed envelope. Use any contact button on this site to make requests or comments to the gallery.
Virtual Gallery

This site is meant as a virtual gallery, a place where everyone may peruse the artist's work though they don't live in the physical area.
Image quality
When viewing these images, please keep in mind that there are of course, limits to how the images appear over a computer monitor. Each viewer's monitor is set for his or her own preference in viewing (screen areas differ as well as the actual number of colors displayed), and each has its limitations. These images are of course viewed in one dimension, when in reality the works here are for the most part, very much multi-dimensional. Thus…...
30 day money back guarantee
If for some reason the work purchased does not meet your expectations, your money will be graciously refunded upon return of the artwork in it's original condition.
Shipping and handling
All prices on the site include shipping and handling. There will be no additional charges upon checkout. All works of art will be shipped via UPS with insurance.
The above information is for continental United States only. There will be additional charges for international orders.
Profile of the artist

Jill lives and works in her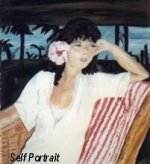 studio in Arizona's beautiful Valley of the Sun, which has sometimes become her inspiration.
It gives her great personal pleasure and fulfillment to express the beauty that she sees in her paintings.
"I hope that it brings something of that to you the viewer as well" Jill 2002.
Contacting the artist
If you would like more information or have any questions or suggestions concerning Jill's work or this site, please do not hesitate to email her.
Best viewed in Frames format, if you are viewing without frames, click here
copyright©websorceress May/2002
All rights reserved
All images of art work copyright©JillKirkland 2000